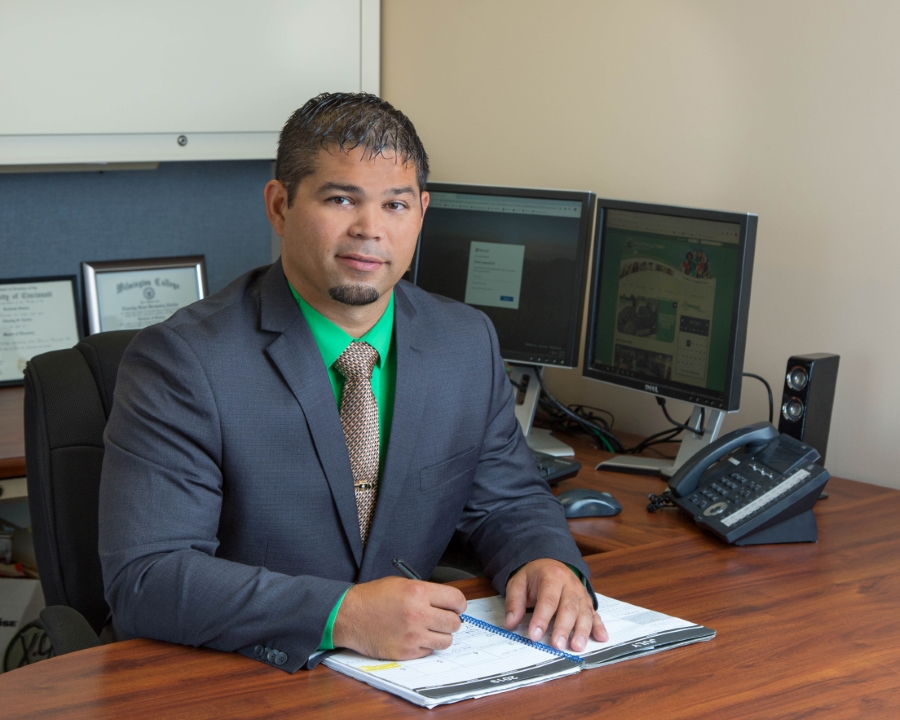 SUPERINTENDENT TIM CARLIER'S MESSAGE
Hello! My name is Tim Carlier, Superintendent of Fayetteville-Perry Local Schools. As a graduate of Fayetteville, I am honored to enter my fourth year as superintendent, and I am excited about the continued opportunity to serve the students, staff, and community of my hometown, Fayetteville, Ohio.
During my sixteen years in the district, I have been fortunate to serve in a variety of roles; these have included teacher, assistant principal/athletic director, principal, and now superintendent. Those experiences, along with my active involvement in the community, have enabled me to understand the needs of our community and uniquely equipped me to serve those needs as your superintendent. Above all, we must provide the opportunity for all students to receive a quality education and the guidance that will lead them to a successful future. As your superintendent, I assure you that is my top priority.
Each year, we evaluate our district needs and make the necessary changes to continually improve the instruction and support we offer our students in the new academic year. To that end, I am excited to share some exciting changes that are taking place in our district. The Board of Education approved the use of American Rescue Plan funds to purchase a new curriculum for both English Language Arts and math in grades K-10. This curriculum is both structured and vertically aligned to meet state content standards, offers online access to both students and parents, and provides support for both intervention and enrichment. We look forward to reaping the results of this investment for years to come.
We continue to upgrade and improve the technology offered to our students. Our incoming freshmen will be issued new Chromebooks as we continue retiring our end-of-life laptops; this means all students in grades K-9 will have Chromebooks, while our older students will continue to use their current laptops. While all students are 1:1, we will continue to protect this investment by keeping devices for younger students secured at school and not taken home.
In addition to our new curriculum, we will begin providing Multi-Tiered Systems of Support for all students in grades K-5. We have restructured the day so these students can receive both academic and/or social-emotional interventions or enrichments, based on each child's personal needs. Parents should look for more information on this initiative coming from their elementary teachers. We have been able to retain our Math Intervention Teacher who, along with our administration, is ready and prepared to support our students and teachers as we make these exciting changes.
In the upper grades, we have made some staffing changes in the high school and middle school which will allow us to better meet the needs of our older students as well. In the high school, we have consolidated our Business Education and Family Consumer Science programs to be taught by a certified teacher who is licensed and equipped to meet the needs of all students in these courses. This allowed us to add a much-needed English Language Arts position in the middle school to provide more instructional time for 7th and 8th graders in this critical area, better preparing them for the rigors of high school.
As for school facilities and improvements, the custodial staff has been busy cleaning/sanitizing all classrooms and applying a fresh coat of wax throughout. Our maintenance department has been working hard to keep up with all building maintenance needs and lawn-care/landscaping to keep our campus looking fresh and ready for students to return.
One major project this summer was the middle school gym renovation. We installed new bleachers and newer (used) scoreboards, applied a fresh coat of paint on the walls, replaced parts of the gym floor, applied Bona high gloss finish on the gym floor, and hung a larger American flag to honor our country. The next major project will be a new chiller installed in the elementary building which will be installed and functional around Brown County Fair break. Our transportation department has worked to clean and maintain/repair our bus fleet to assure the continued safe transportation for our students. In October, we will add a new school bus to prepare for replacement of aging buses.
We want to thank all of our parents and community members who took part in the surveys we sent out earlier this year, and I encourage you all to take part in those surveys during the new school year as well. We will continue to listen to all of our stakeholders on topics of concern as we always seek to improve our district and better meet the needs of our students and community.
As we plan for the 2022-2023 school year, I am excited to watch our young people succeed in their academics and extracurricular activities. I want to see our students, parents, and community build strong professional and personal relationships, make positive memories, and continue our tradition of excellence!
If you have any questions, please feel free to call me at 513-875-4500.
Have a great day and an amazing school year. And As Always … GO ROCKETS!
Tim Carlier
Superintendent
Fayetteville-Perry Local Schools